The German Standardization Panel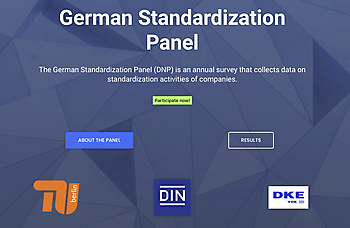 13 November 2020
The German Standardization Panel (DNP) is an annual survey that collects data on standardization activities of companies. On their website this introduction is published:

" Since 2019, the project is directly financed and supported by DIN and DKE. It is conducted by the Chair of Innovation Economics at Technische Universität Berlin.

In 2016, the Federal Ministry of Economy and Energy (BMWI) kindly accepted the patronage of the German Standardization Panel.

In doing so, the BMWi highlights the importance of standardization for individual firms and the economy as a whole. The "power of standardization" grows as topics become more challenging with electromobility and Industry 4.0 providing excellent examples of sector and cross-sectoral demands.

The long-running German Standardization Panel wants to raise awareness about the benefits of standardization for industry. Concurrently, it is working to create a comprehensive database for the analysis of the current activities and future trends for use by all standardization policy makers and any other interested parties.

For businesses, standardization serves as a strategic tool by preparing the market for a new product, even if the new product is still in the early stages of development.
Standardization research with all of its facets – from creation, through the development process and to the implementation of the standard – has, despite progress in recent years, continued to be doomed to a shadowy existence in comparison to innovation research. This is primarily due to the fact that, despite excellent theoretical reviews on the topic, no comprehensive empirical data is available.

For this reason, the German Standardization Panel was set up.

A standardization panel has been established, focussing on the engagement of German companies and research institutions in the field of standardization. In autumn 2012, it was first brought to life in the form of an online survey conducted with the support of the DIN as well as other interested Industry Associations. The survey itself is conceived and the gathered data analysed by the Department of Innovation Economics of the Technical University Berlin. In order to gain statistically representative data, the results are compared with data of the DIN e.V. In the mid-term, the data is used to complete the picture sketched by one survey on innovation initiated by the Federal Ministry of Education and Research in the nineties and another survey on Research and Development in scientific statistics conducted by the Stifterverband. The project was initiated during the founding phase of the German Society for the Promotion of Research on Standardization e.V. (www.FNSeV.de) by the members DIN, DKE and the HARTING Technology Group and is intended to be fully financed and supported with regard to content by the society. "
More information on: http://www.normungspanel.de/en/
Would you like to read more blog posts? Go to the page NEWS.