National Resilience and Recovery Plans (NRRPs)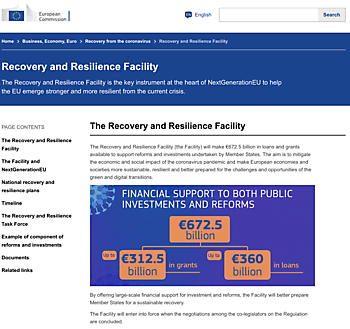 30 November 2020
The European Recovery and Resilience Facility (the Facility) will make €672.5 billion in loans and grants available to support reforms and investments undertaken by Member States. The aim is to mitigate the economic and social impact of the coronavirus pandemic and make European economies and societies more sustainable, resilient and better prepared for the challenges and opportunities of the green and digital transitions.

The National Associations within FESI are part of the proces of building national teams of member states. With these national task-forces the idea to fund insulation projects with money from the National Resilience and Recovery Plans (NRRPs) wil be presented to national governments.

Everybody is aware about the opportunities to reduce energy waste by more or even better insulation. Tools and documents have been devolved to underline this also to a greater attention in media and local politicians. But the goal to request minimum energy classifications in industry like it is done in the building industry is not easy and quickly to reach.

Actually, we see a new chance to develop a next step in this story: EU's recovery and resilience facility. (see details in enclosed copy of page 8 of our November newsletter).

On the 18th of November interested managers from different local and global companies were invited by EiiF to discuss this opportunity. Of course, also FESI, as representative of the national associations of contracters did participate and agreed to this big chance for our business, given by the EU program. Out of this workshop small teams of participants acting in the interesting EU countries were defined

More about the National Energy and Climate Plan of Your Country
Brief and general information can be found here.

Download PDF information: fesi-news-dec-2020-page-8.pdf
Would you like to read more blog posts? Go to the page NEWS.