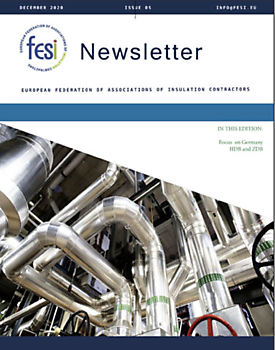 4 December 2020
The December issue of the FESI Newsletter for FESI members has been published.
(copy for external parties only on reques at info@fesi.eu)

Contents
National Associations in FOCUS.
In this issue the spotlight is on Germany. The two delegations, ZHDB / BFA WKSB - Hauptverband der Deutschen Bauindustrie e.V. (HDB) and BFG WKSB Zentralverband Deutsches Baugewerbe (ZDB) present some interesting insights.

How to become more relevant
The insulation sector should ensure that they are in a more relevant position towards politicians. What can NA's do in their own region? A brief guidance.

FESI exists 50 YEAR
FESI celebrated their 50th Anniversary online. A historical fact with the presentation of the commemorative coin.

FESI website revised
A new style and more communication facilities were made with the revised FESI-website.


NEWS From our partners
A reference to the TBI-app of EiiF.
Would you like to read more blog posts? Go to the page NEWS.