Dr.-Ing Rudolf K. Jürcke, President FESI: Industry perspectives 2021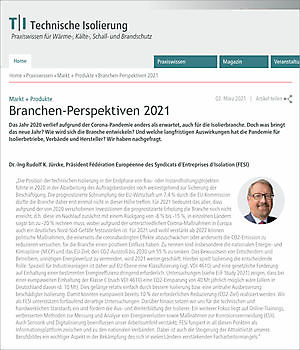 4 March 2021
The article has been published in issue 22 of the TI - Newsletter Technische Isolierung March 2021

Original version is in the German language.

The year 2020 went differently than expected due to the corona pandemic, also for the insulation industry. But what does the new year bring? How will the industry develop? And what long-term effects does the pandemic have for insulation companies, associations and manufacturers?

The position of technical insulation in the final phase of construction or maintenance projects led to the greatest possible way in the processing of the order book in 2020 to secure employment. The projected shrinkage of the EU economy by 7.4% by the EU Commission should therefore not hit the industry at this level for the time being. For 2021, however, this means that due to the investments postponed from 2020, the forecasted recovery has not yet reached the industry, i.e. it must initially expect a decline of -8% to -15% in the following, and even up to -20% in individual countries, although a clear North-South divide can also be observed due to the different corona measures in Europe. For 2021 and probably more so from 2022, policies that on the one hand weaken the corona-related effects or on the other hand try to reduce CO2 emissions can have a positive impact on the industry. In particular, the national energy and climate plans (NECPs) and the EU target of reducing CO2 emissions by 55% by 2030 are to be mentioned. The awareness of decision-makers and operators to avoid unnecessary energy loss will be further raised in 2021. Insulation plays a decisive role in this. Especially for industrial plants, therefore, a classification is required at EU level (cf. VDI 4610) and a legal requirement for compliance with a certain energy efficiency is urgently needed. Studies (see EiiF Study 2021) show that if class C was complied with throughout Europe (according to VDI 4610), a CO2 saving of 40 Mt per year would be possible (in Germany alone, approx. 10 Mt). This could be done relatively easily through better insulation or a timely repair of damaged insulation. This could already achieve 10% of the required reduction (CO2 target) throughout Europe. As FESI, we continuously support such investigations. In addition, we are committed to the technical and craft standards and promote the training and further education of insulators. Another focus is on online training, improved methods for measuring and analyzing energy losses, and corrosion prevention (CUI) measures. Sensors and digitalization also have an increased influence on our working environment. FESI acts as an information platform between and with the national associations in all these points. Increasing the attractiveness of our professional profile is also an important aspect in combating the increasing shortage of skilled workers in many countries.
Would you like to read more blog posts? Go to the page NEWS.